PLEASE NOTE: For horse back riding lessons, any scheduled appointment must be canceled within 24 hours of the scheduled time.
Double Hearts offers a complete riding lesson program, for children and adults, from beginners to experienced riders looking to gain experience.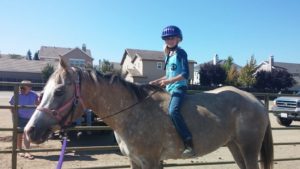 We believe in "natural riding" – our students start out bareback, to get the feel of the horse.
Most of the theory we talk about during lessons is discussed on horseback, so the rider can develop the physical and sensory responsiveness that puts theory into practice. Our goal is to allow each student to progress at his or her own pace while we make the learning experience safe, enjoyable and fun. At the first session, we conduct an evaluation of each rider's abilities and identify their goals.
Our seasoned lesson horses are available for your use, or we can work with you and your own horse.
Call us direct at (925) 339-5518 to book your riding time!